Astral Chronicles EXCLUSIVE gift for QooApp newbie players!
Astral Chronicles (Law of Creation 2) | Global
Time
2019-07-22 00:00 ~ 2019-10-23 00:00
Gift Cosmic Ticket*1,
Dual Rift Ticket*3,
Cosmic Coins*50,000

Rules
User can get QooApp exclusive gift code by installing "Astral Chronicles"! <(✪ω✪)>
How to redeem:
Enter game home page→MY INFO (on the top left corner)→Setting→CDkey→Redeem reward→Success!
Attention:
1. Each game account can only use 1 code.
2. The deadline of using the code is 22-10-2019 23:59, all codes will be invalid after the deadline.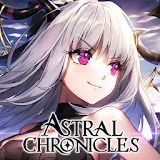 Astral Chronicles (Law of Creation 2) | Global
Astral Chronicles (Law of Creation 2) | Global