Astral Chronicles SPECIAL gift for QooApp players!
Astral Chronicles (Law of Creation 2) | Global
Time
2019-08-11 00:00 ~ 2019-10-01 20:26
Gift Fairy Tonic Kit*5
Forging Tool Kit*2
Red Moon Hourglass*2

Rules
To celebrate the collaboration with Law of Creation, we will give 3000 special gifts for QooApp players. Check it out below!
How to redeem:
Enter game home page→MY INFO (on the top left corner)→Setting→CDkey→Redeem reward→Success!
Attention:
1. Each game account can only use 1 code.
2. The deadline for using the code is 31-12-2019 23:59, all codes will be invalid after the deadline.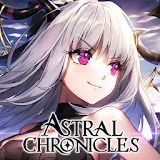 Astral Chronicles (Law of Creation 2) | Global
Astral Chronicles (Law of Creation 2) | Global