Re: Zero Infinity-EXCLUSIVE gift for QooApp players!
Re: Zero Infinity | Simplified Chinese
Time
2020-01-13 18:28 ~ 2020-02-14 19:00
Gift
Coin*10,000
Low-end experience*3
Rules
Comment on "Re: Zero Infinity" to get QooApp exclusive welfare gift Pack!
How to Redeem:
Open "Re: Zero Infinity"and go to the main menu → Click "system settings" → Redeem code to enter
Points to Note:
1. The gift code is only redeemable on Android and can be only used once.
2. Redeem period: Jan 13 2020 - Feb 14 2020
3. The code will appear on the event page after you clicked join and commented on the game page.
4. Users can get redeem code no matter what the review score and content are. Be objective!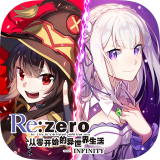 Re: Zero Infinity | Simplified Chinese
Re: Zero Infinity | Simplified Chinese
Download