How to Raise a Harem Valentine's Day Special💝 Comment to get In-Game Items!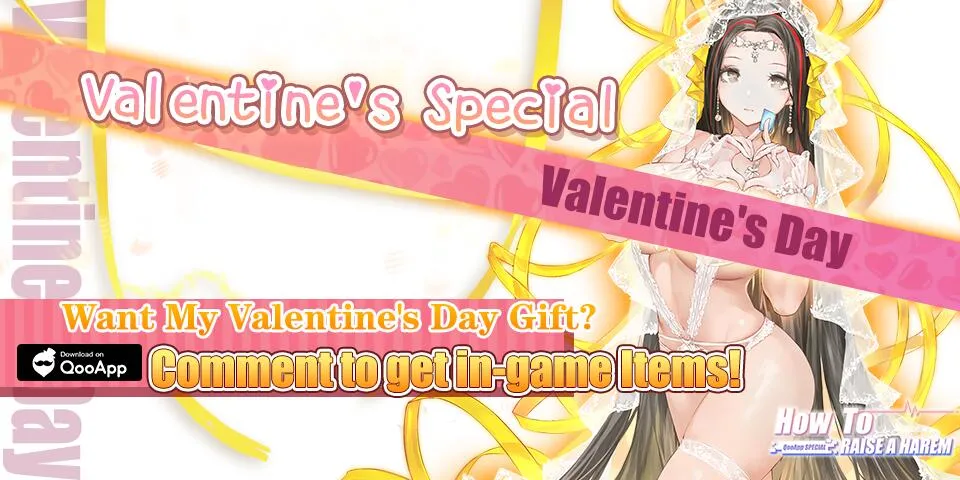 Time
2022-02-10 18:00 ~ 2022-02-17 23:59
Gift
In-Game Item Event Marbles*100
Participants
9291 / 50000
Rules
To thank the support from all the fans and to celebrate Valentine's Day, here comes the second gifting event for How to Raise a Harem!
💝 How to join?
It's easy! Just leave a comment under this note (👉HERE).
💝 Reward:
Valentine's Day Exclusive Gift Code*1 (contains Event Marbles*100)
(We have enough gift codes for everyone, but only one code for each player!)
💝 How to redeem?
After receiving the activation code, enter the How to Raise a Harem game, click the avatar in the upper right corner to enter the personal center, click cdkey to exchange, and enter the virtual treasure exchange serial number.
▶JOIN NOW◀

💝 Attention:
1. The gift code is only redeemable on Android and can be only used once.
2. Redeem period: permanently valid.
3. The code will appear on the event page after you clicked join and commented under the note.
4. Please do not disclose your gift code, otherwise, it may be falsely redeemed by others.
5. QooApp has the right to make final decisions.