PRE-REGISTRATION OF CRYSTAL OF RE:UNION STARTED NOW
CRYSTAL OF RE:UNION
Time
2017-09-11 12:00:00 ~ 2017-09-30 23:59:00
Gift
Up to
10,000 Gold
Speed Up (30 min) x40
1h ATK VS Monster 50% UP x5
Aura Restoration x50
Legendary Sword Balmung x1
Participants
5855 / 10000
Rules
1. Click the "Pre-register" button at the bottom of this Event Detail Page. A message "Pre-registration Done!" will appear

2. A notification will be sent to Pre-registered users upon the game's release
How to Collect the Unlocked Milestone Rewards:
1. Install the Crystal of Re:union app when the game launches.
2. After the tutorial, select Menu.
3. Select the Gift Box and claim your rewards!
Head on to Crystal of Re:union's Official Pre-Registration Website (Click Here) to join the following Pre-registration Activities:

* Pre-Registration Milestone Rewards - Contribute efforts and collectively help unlock the highest reward tier!
* "Crystal of Re:union - Quest for Mythril" - Get a glimpse of the game by trying your hands at this Mini Game created exclusively for all pre-registered participants to enjoy!
* Be acquainted with the six Legendary Heroes and vote for your favorite of the six at the Hero Popularity Poll! All players will get a top-grade Hero Card of the top voted Hero when the game launches!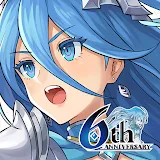 CRYSTAL OF RE:UNION
CRYSTAL OF RE:UNION
gumi Inc.
Download