Pre-Registration Starts for Upcoming Epic Mobile SRPG "The Alchemist Code"
The Alchemist Code
Time
2017-10-18 10:00:00 ~ 2017-10-31 23:59:00
Gift
Up to 
-Apple of Accomplishment x10
-Pre-registration Equipment 10-Summon Ticket
-Skip Ticket x10
-5★-Potential Character: Mianne
-Gem x200
Participants
8456 / 10000
Rules
1. Click the "Pre-registrer" button at the bottom of this Event Detail Page. A message "Pre-registration Done!" will appear
2. A notification will be sent to Pre-registered users upon the game's release
How to Claim the Unlocked Milestone Rewards:
1. Rewards are credited to existing players and new players who create a game account within 14 Days after the Official Global Launch
2. Rewards will be sent to the in-game Gifts Box. It will be available for claiming for up to 30 Days
Head on to The Alchemist Code's Pre-Registration Website and join in the fun at the following Pre-registration Activities:

* Pre-Registration Milestone Campaign - Pre-register and log in daily to be awarded with daily Play Tickets to perform exciting Pre-Reg "Spin" Summons! Contribute to the campaign and unlock more in-game rewards by playing the Summons and completing the missions! Start on a good footing - spread the word and collectively join forces to unlock the highest rewards that will be enjoyed by all players as starting gifts now!
* Be acquainted with the key characters from the Chapter 1 and find out more about the intriguing story behind the world of The Alchemist Code: how the alluring power of Alchemy brought about the destruction of a world divided by differing ideals, why it was sealed away by members of the Alliance of the Seven Kingdoms, and its mysterious revival...
* Download The Alchemist Code collectibles - Enliven your conversations and phones with these Exclusive iMessage Stickers and Live Wallpapers!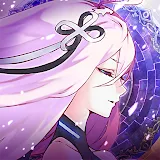 THE ALCHEMIST CODE | English
THE ALCHEMIST CODE | English
gumi Inc.
Download